PUPPIES 2017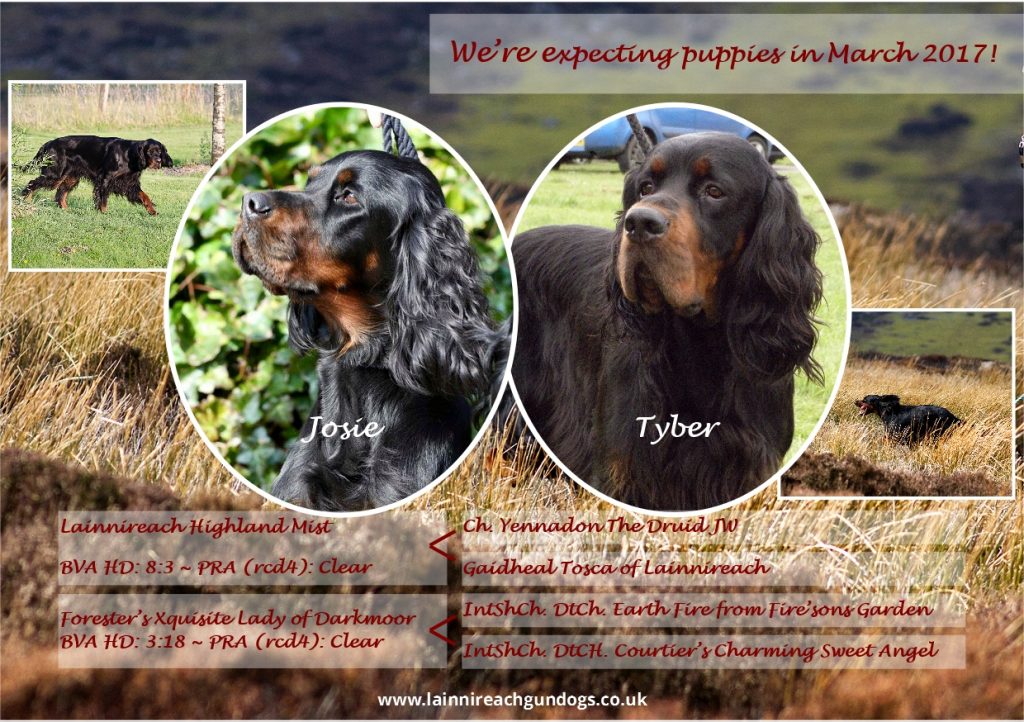 We are delighted to announce that we are expecting Gordon Setter puppies! Puppies are expected to arrive around 17 March 2017.
Josie (Forester's Xquisite Lady of Darkmoor at Lainnireach) x Tyber (Lainnireach Highland Mist)
Sire


LAINNIREACH HIGHLAND MIST

Hips 8:3 ~ PRA(rcd4): Clear

(one Reserve Champion Certificate)

Sire                      


CH. YENNADON THE DRUID J.W.  

Hips 11:8 ~ PRA (rcd4): Clear

Sire


SH.CH. DUNFIONN INVERKIP


Hips 5:3

Dam


CH. YENNADON TIME FOR TAVY


Hips 6:14

Dam


GAIDHEAL TOSCA OF LAINNIREACH

Hips 7:4 ~ PRD (rcd4): Carrier

Sire


LIRIC COOLABAH


Hips 3:3

Dam


GAIDHEAL COURT USHER


Hips 7:9

Dam


FORESTER'S XQUISITE LADY OF DARKMOOR AT LAINNIREACH (IMP DEU) Hips 3:18  ~ PRA(rcd4): Clear

Sire




INTERNATIONAL SH.CH. FCI




DEUTSCHER CHAMPION – VDH




DEUTSCHER VETERANEN CH. – VDH

EARTH FIRE FROM FIRE'SONS GARDEN

Hips A1 ~ PRA (rcd4): Clear

Sire


SH.CH BOYERS SHILLOW


Hips A

Dam


BEAGIN GOING PLACES


Hips A

Dam




DEUTSCHER CHAMPION – VDH




HUNGARIA CHAMPION




INTERNATIONAL SH.CH. C.I.E.

COURTIER'S CHARMING SWEET ANGEL

Hips A2 ~ PRD (rcd4): Clear

Sire


AUST.CH. & AM.CH. TRISETER EBONIE ZEUS


Hips A

Dam




Norwegen & Estonia Winner


FORESTER'S HOT SENSATION OF DARKMOOR


Hips A/A
Full 5-generation pedigree is available on request.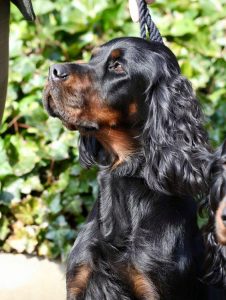 About Josie (Forester's Xquisite Lady of Darkmoor at Lainnireach):
We brought Josie over from Germany in November 2013. She was bred by the awarding winning kennel 'Forester's of Darkmoor' by Dagmar Bartels. Josie has been consistently placed in the showring and show promise in the field.
Judges feedback on Josie:
…feminine head & expression, lean neck, well laid back shoulders, level topline, well sprung ribs with good depth to chest. Typical coat for age but super shiny. Moved well for one so young & enjoyed her time in the ring.
Picture by Anke Panzner
More about Forester's of Darkmoor in Germany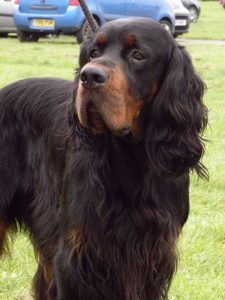 About Tyber (Lainnireach Highland Mist):
Owned by Mr & Mrs Evans, bred by Jane Cuthbertson at Lainnireach kennels in 2010. Tyber has been shown and worked. He's been awarded the Good Citizen Dog Scheme (GCDS) Gold. He's performed equally well at both. He's also a loving family member.
Judges feedback on Tyber:
I consider this dog my 'find of the day'. Dog of correct size, lovely head & expression, correct angulation & construction making for a truly balanced dog that moved with great drive & determination. One of the cleanest 'tan' of the day. A true workman.
Judge: G Lambert
Puppies may be available. Please contact us for more details.
oOo oOo oOo oOo oOo
Puppies arrive safe and sound 19 March 2017. Five girls and four boys.

Delighted to annouce that Josie had 9 puppies (5 girls and 4 boys) on Sunday 19th March 2017. All doing well.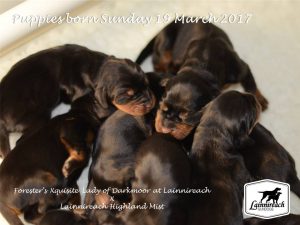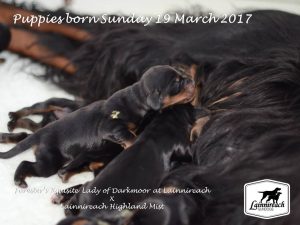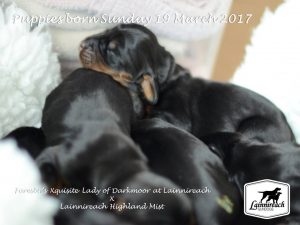 Puppies names approved by The Kennel Club
We like to have a theme to our names, Whisky's puppies were all named after cocktails with a dash of 'whisky' in them. This time we have a 'chocolate' theme…
Boys:
Lainnireach Surprise (Hector)
Lainnireach All Gold (Lucas)
Lainnireach Celebrations (Harris)
Lainnireach Buttons (Buttons)
Girls:
Lainnireach After Eight (Breaghe)
Lainnireach The Lady Loves (Princess)
Lainnireach Divine (Freya)
Lainnireach Black Magic (Amber)
Lainnireach Magic Stars (Maggie May)
oOo oOo oOo oOo oOo
Our responsibilities to our dogs and for breeding
We promise that all dogs in our ownership are reared as happy and healthy dogs.
Occasionally we may have puppies available. However we only breed a litter when we are looking to keep a puppy ourselves.
If you would like more information on planned litters please email us for details.  Please note that we vet all potential owners for suitability and coming to see our dogs/puppies doesn't always mean you will be taking a puppy home.
When breeding, we are looking for conformation, working ability, looks and above all temperament.
We will actively work with the Kennel Club, breed clubs and councils, to ensure our dogs are fit for purpose.
We will honour the Kennel Club's Codes of Best Practice.  As responsible breeders we will:
– Not mate a bitch which is under 24 months of age
– Not whelp two litters within a 12 month period from the same bitch
– Keep accurate records
– Not allow a puppy to leave our kennel until it is at least eight weeks of age
Kennel Club Approved Breeder
The Kennel Club is UKAS accredited to certify me, as an Assured Breeder, against the requirements of its Assured Breeder Scheme.
The Kennel Club is the only organisation accredited by the United Kingdom Accreditation Service (UKAS) to certify dog breeders, under the Kennel Club Assured Breeder Scheme. This means that the Kennel Club is recognised as an impartial and competent inspector by the government's sole national accreditation body. This gives the puppy buying public additional confidence that as a Kennel Club Assured Breeder, I am committed to meeting and maintaining high standards for caring for the health and welfare of their puppies and breeding bitches, and are the best point of contact for buying a healthy, happy puppy.
We have been recognised as Kennel Club Approved Breeder Scheme since 2010.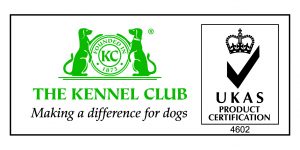 Save
Save
Save
Save
Save
Save
Save
Save
Save
Save
Save
Save
Save
Save
Save
Save
Save
Save
Save
Save
Save
Save